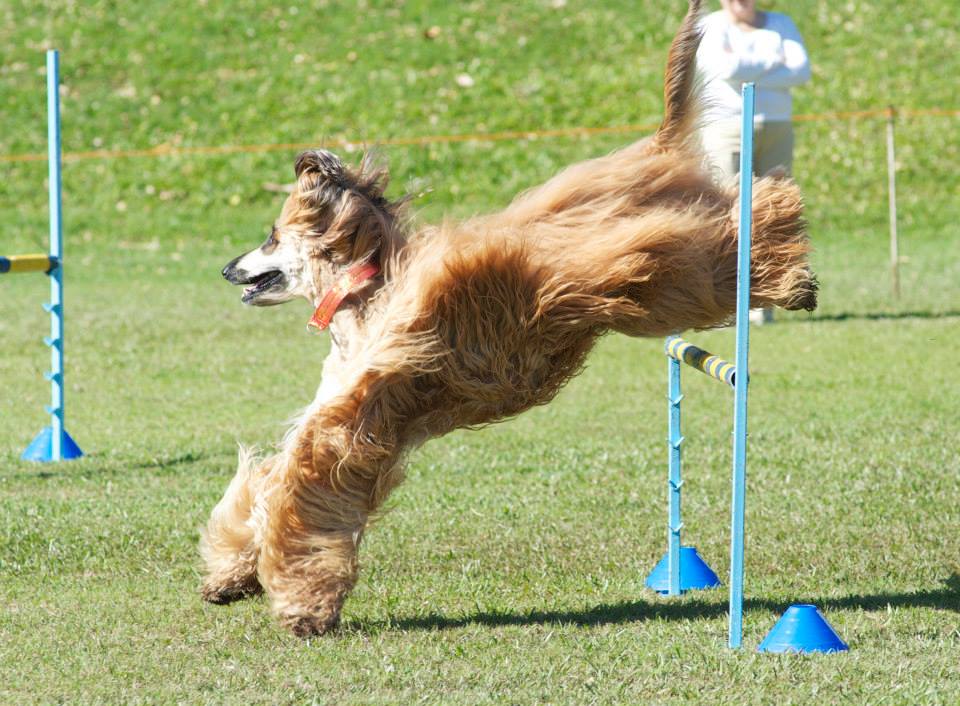 At Jimboomba we offer agility classes for beginners to competition level. This
fast paced, enjoyable sport has become very popular in recent years and is great
for fitness, fun and building the human – canine bond.
Agility FAQs – thanks to Wikipedia
What is dog agility?
Agility is a dog sport in which a handler directs a dog through
an obstacle course in a race for both time and accuracy. Dogs run off-lead with no food
or toys as incentives, and the handler can touch neither dog nor obstacles. The
handler's controls are limited to voice, movement, and various body signals,
requiring exceptional training of the animal and coordination of the handler.
What is an agility course?
In its simplest form, an agility course consists of a set of standard obstacles,
laid out by an agility judge in a design of his or her own choosing on a roughly
30 by 30 metre outdoor area. Numbers indicate the order in which the dog must
complete the obstacles.
How does an agility competition work?
Because each course is different, handlers are allowed a short walk-through
before the competition starts. During this time, all handlers competing in a
particular class can walk or run around the course without their dogs,
determining how they can best position themselves and guide their dogs to get
the most accurate and rapid path around the numbered obstacles. The handler
tends to run a path much different from the dog's path,
Printed maps of the agility course, called course
maps, are often made available to the handlers before they run, to help the
handlers plan their course strategy. The course map contains icons indicating
the position and orientation of all the obstacles, and numbers indicating the
order in which the obstacles are to be taken. Course maps were originally drawn
by hand, but nowadays almost all course maps are created using a program called Clean
Run Course Designer.
Each dog and handler team gets one opportunity together to attempt to complete
the course successfully. The dog begins behind a starting line and, when
instructed by his handler, proceeds around the course. The handler typically
runs near the dog, directing the dog with spoken commands and with body language
(the position of arms, shoulders, and feet).
Because speed counts as much as accuracy, especially at higher levels of
competition, this all takes place at a full-out run on the dog's part and, in
places, on the handler's part as well.
Scoring of runs is based on how many faults are
incurred. Penalties can include not only course
faults, such as knocking down a bar in a jump, but also time
faults, which are the number of seconds over the calculated standard
course time, which in turn is determined based on the competition level,
the complexity of the course, and other factors.
How do I begin agility training?
Dogs can begin training for agility at any age; however, care is taken when
training dogs under a year old so as to not harm their developing joints.Dogs
generally start training on simplified, smaller, or lowered (in height) agility
equipment and training aids (such as ladders and wobbling boards to train
careful footing);however, even quickly learning puppies must be finished growing
before training on equipment at standard height to prevent injury.
Introducing a new dog to the agility obstacles varies in response. Each
individual dog learns at his own pace; confident dogs may charge over equipment
with little encouragement, while more timid dogs may take weeks to overcome
their hesitations with much encouragement.
Common reasons for joining an agility class include:
Access to agility equipment
Seeking the guidance and expertise of
more experienced handlers.
Enjoying the social venue that many
classes provide.
Training in a more distracting
environment, which is helpful in preparation for competition.
What agility classes are offered at Jimboomba?
1 Foundation Class – 6.30pm for 7:00pm start
For beginners – this class provides the essential grounding for future agility
exercises and introduces a number of core behaviours that are essential for safe
and effective agility handling.
2 Equipment – 6.30pm for 7:00pm start
For Foundation Class graduates – this class leads on from basic skills and
introduces the core obstacles in a controlled environment.
3 Novice – 6.3pm for 7:00pm start
Following on from equipment, handlers build and navigate basic courses to
beginning competition level
How do I enrol in Jimboomba agility classes?
Contact Jacqui fixit@iimetro.com.au
Foundation and Equipment classes are offered periodically and places fill fast,
so book early to avoid disappointment.
So You're Ready to Start Competing?
You have worked hard training your dog and are now at the stage where you can
start trialling and attain qualifying scores towards your titles.
OK – so where do we start. If you are new to trialling, it can all be very
confusing. Ask the wrong person and they will tell you all you have to do is
enter a competition and turn up on the day with your dog!!! What could be
easier? But for a 'newbie' it's not so cut and dried.
Membership
Let us start at the very beginning. Before you can compete in a trial, you and
your dog must be a member of Dogs Queensland. Download the membership
application from this website or contact the office and one will be posted to
you.
Canine Control Council (Qld) trading as Dogs Queensland
Frank Nicklin Pavilion
5-9 Costin Street
Fortitude Valley 4006
PO Box 495,
Fortitude Valley
Qld 4006
P: 07 3252 2661
F: 07 3252 3864
E : dogsqld@powerup.com.au
Once you become a member of Dogs Queensland you will receive a membership card,
which will indicate your membership number. Keep this card in a safe place. You
will also the latest Queensland Dog World Gazette, which has all the details for
scheduled trials, and some blank entry forms. Dog World Queensland is a monthly
publication and will be posted out to you at the beginning of each month.
Prior to Trialling
Prior to entering a trial, it is
probably a good idea to go along to a trial and watch. You can learn so much
watching people compete and it gives you an insight as to what to expect
when you enter.
It is also very important for to
purchase a Rule Book for Agility Trials. If you are going to trial, you need
to know the rules of the class in which you are competing.  Rulebooks may be
purchased from the CCCQ and is usually available from club canteens.
Entry Forms
Download entry forms from
dogsqueensland.com.au. Forms must be printed and posted to the club of
entry.
Measuring
The rest of the form is straight
forward "height at shoulder" requires your dog to be measured officially by
agility judges.
Measuring takes places during
vetting, prior to the commencement of each trial. Ask to be measured when
vetting.
You will need to take your dog's
registration papers in order for the paperwork to be completed, and then you
will be issued with a Measuring Card, stating your dog's height and number.
Once again, keep this card in a safe
place.
You will need to provide these
details on entry forms when competing in trials.
What do I do now that I have gained my first title?
You have now passed 3 qualifying trials with your dog in Novice! Well done. Once
you have qualified, it is important that you know you cannot now enter the
Novice class again, unless the closing date for the next trial has passed. You
can enter the next class however, but you MUST have completed the next step –
which is –
It is necessary now for you to forward the following:
Your dog's registration certificate
"Application for Title" this form can
be downloaded from the Dogs Queensland website, or contact the office and
one will be posted out to you.
Cheque for the fee for your title
application. This can be found on the back page of Dog World Queensland .
Check List:
Apply for membership of Dogs
Queensland
Register your dog with Dogs
Queensland
Receive Membership card and then
select trial
Complete entry form
Send entry form and fee to Trial
Secretary
On the day –

Pack vehicle with dog, lead,
competitor number holder (safety pin or armband), refreshments
for you and your dog, bedding, water bowl, chair
Check weather, take appropriate
clothing and shelter
Arrive early at venue
Collect number from trial
secretary
Have your dog "officially"
measured
Ensure that you are ready at
ringside when you are called to compete
Agility links